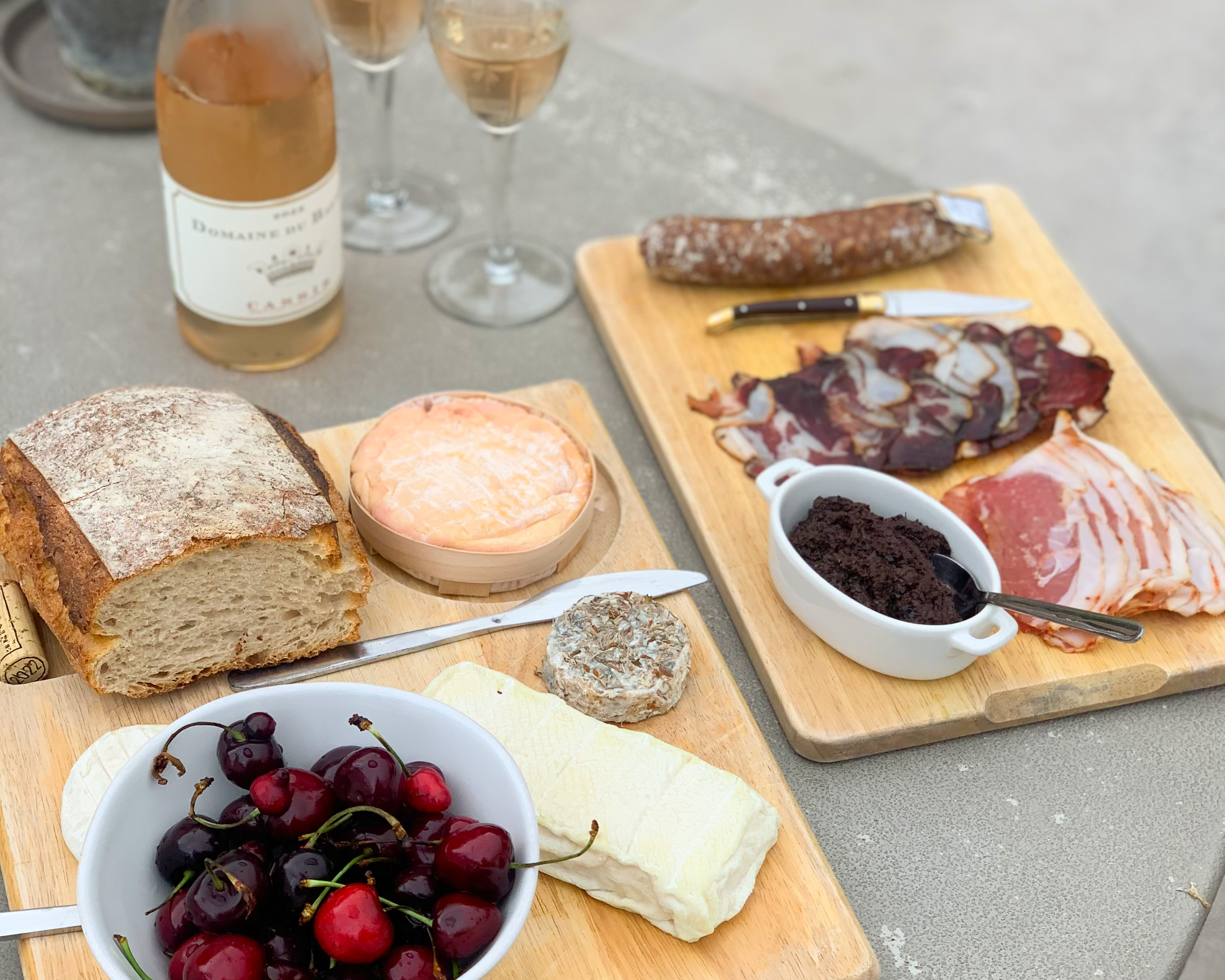 Formaggio Kitchen's owner, Julia Hallman, is back at the shop after traveling to Provence, France last month. The goal of her trip was to visit with some of our existing producers as well as to seek out new ones.
Here is a little glimpse into her trip's itinerary:
Miellerie Lo Brusc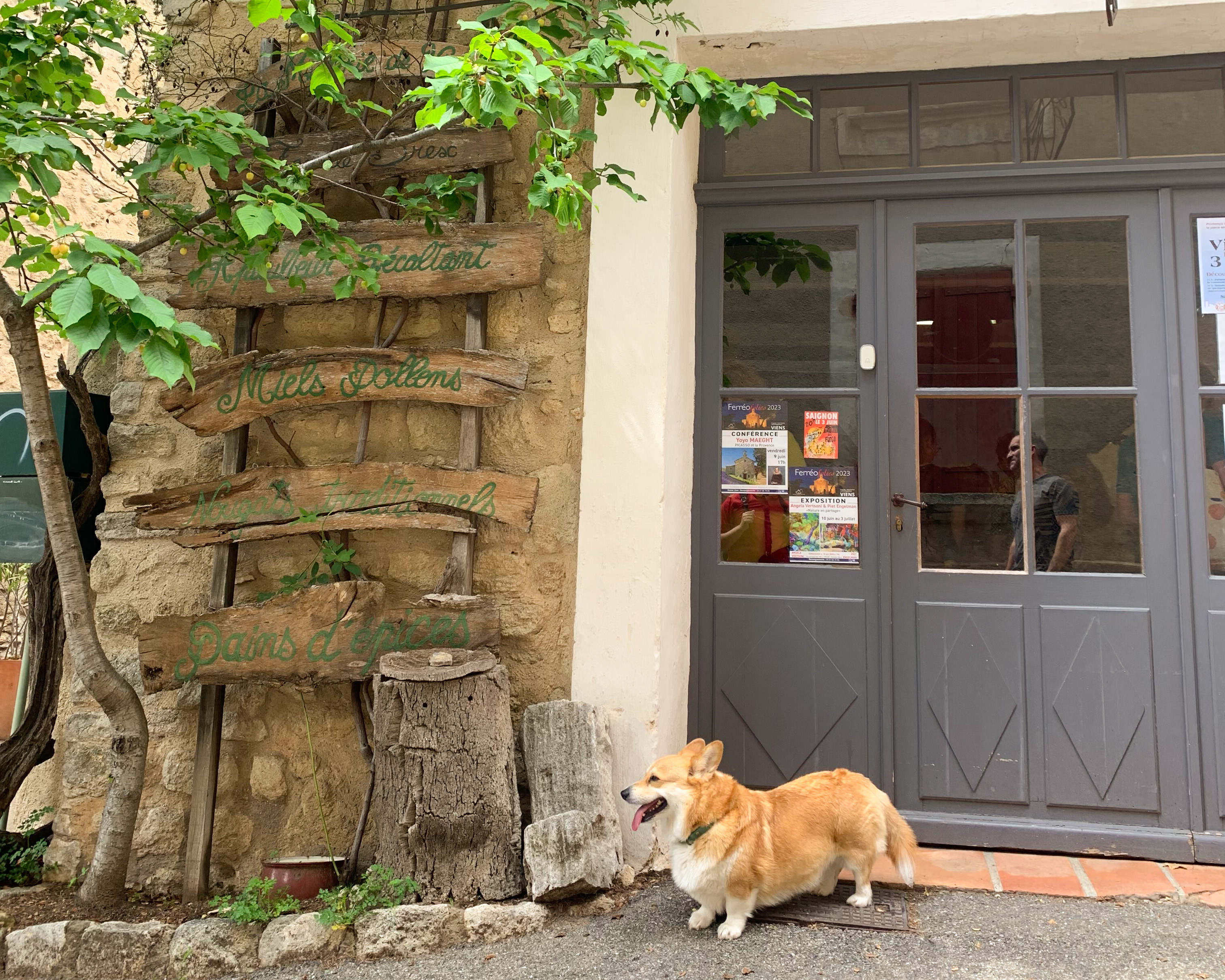 We've been working with Lo Brusc, a single-varietal honey producer in Provence, since the '90s. I've been Formaggio Kitchen's honey buyer for most of my 16-year tenure at the shop and thus have been working closely with Lo Brusc for many years. However, this trip was my first time meeting them in person so I was extraordinarily excited to finally meet them.
The winding road to Viens is long and rural, even by Provencal standards. After passing fields and fields of Lavender we entered the tiny medieval town of Viens. As we pulled into a small parking spot on the outskirts of town (the center of town has no roads), I vividly recalled an old photo of Formaggio Kitchen's previous owners, Ihsan and Valerie, visiting Miellerie Lo Brusc. The same ancient stone building and wooden sign that I'd seen dozens of times before came into view as we walked into town.
Lo Brusc is run by siblings Estelle and Jean, recently handed down to them by their parents, Jean and Brigitte, who started the business. Estelle runs Lo Brusc's tiny shop in the center of Viens and Jean is the beekeeper. Once inside the shop, we saw small stacks of the familiar, beautiful honeys that we have grown to know and love alongside some of their sweet specialties such as honey candies, cakes, spreads, and nougat.
Jean offered us a tour of Viens led by a very enthusiastic guide, his dog Mushi. Perched strategically on the top of a hill, Viens provides an excellent vantage point of all of the surrounding areas with views for miles and miles. As we wound through the narrow streets we'd often pop out to an overlook at which point Jean would point out exactly where his hives were located and would explain what varieties of honey he'd be collecting from those hives. From the Mountains of Lure to the Lavender fields of Provence to the foothills of the Luberon Mountains Jean spoke with an endearing passion for each hive.
After the tour, Jean invited us to a picnic at his home. I had assumed we'd need to go on a short drive, but I was quite wrong - just a stone's throw from their shop was the entrance to his home. A narrow spiral staircase took us to the rooftop terrace. With combined efforts (I never found myself without a stash of cheese and charcuterie in Provence… just in case!), we put together quite an exceptional picnic overlooking the Provencal valley.
As our day wound to an end, we headed back to the shop to say goodbye to Estelle. As we waited for some customers to depart (the shop is too small for more than 3 people at a time), I was momentarily struck by the scale of their business and the long-lasting relationship with Formaggio Kitchen that has endured for generations. Everything that I had experienced that day reinforced all of the hard work that goes into importing from these tiny, exceptional producers and I am truly humbled to be the caretaker of their beautiful work.
Moulin Mas des Bories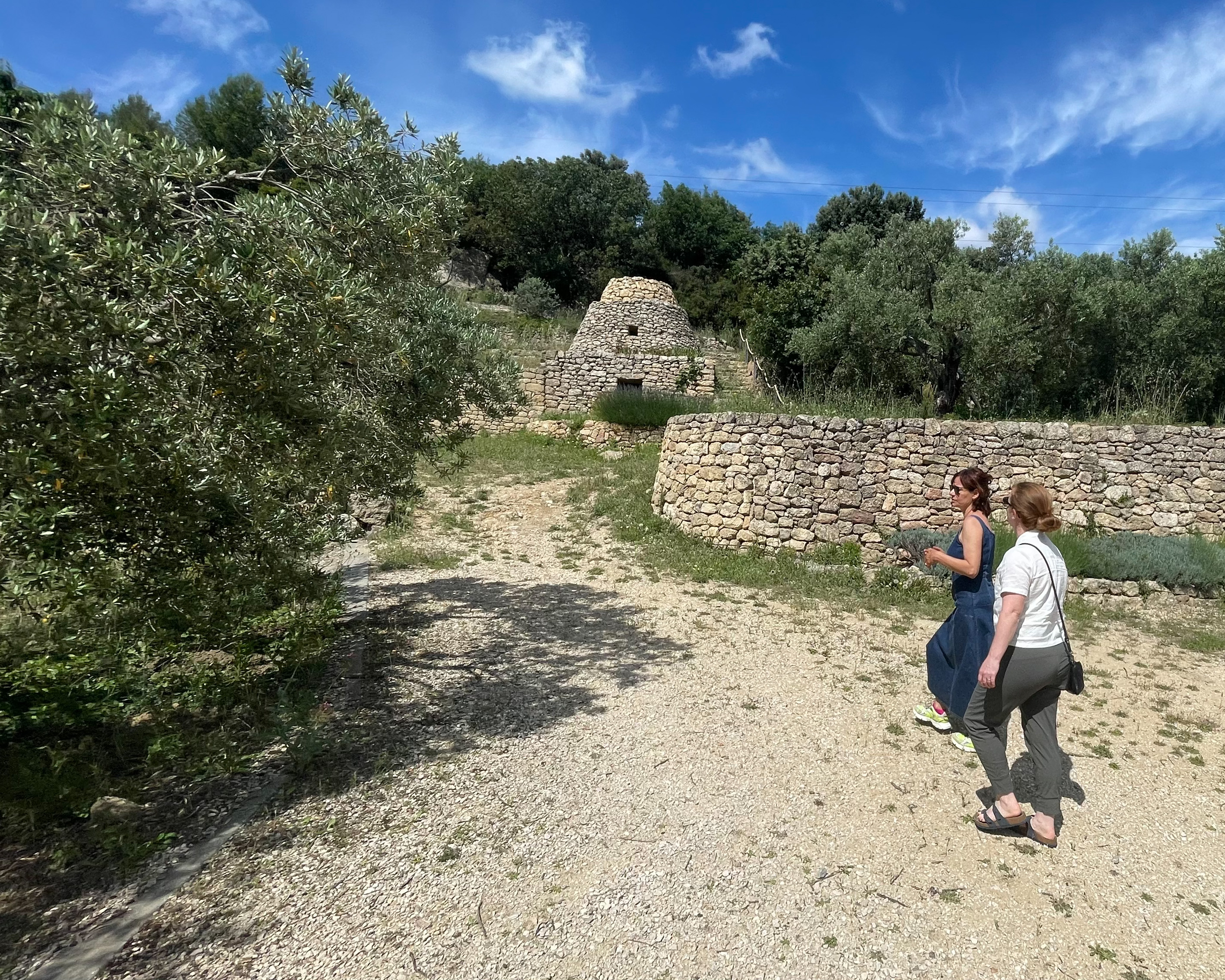 Mas des Bories is one of our newest olive oil producers so when I was planning my trip to Provence I knew that I had to stop by and meet them. Mas des Bories is located off of a winding one-lane dirt road in the hills above Salon-de-Provence. Upon reaching their grove, the true scale of their business became very apparent. A short drive along rows and rows of olive trees brought me to the door of Claire's home, nestled between the groves. The ground level was the "garage" or in their case, where their olive oil factory is located while their home was just above. A tour of the groves revealed olive trees of many classic Provencal varieties - Saloneque, Grossane, Aglandau, and Picholine nestled closely together between narrow pathways dotted with wildflowers. Claire explained that the trees were planted closer together than what is typical. This requires a great deal of pruning and care to maintain the trees. They seem to thrive in this environment of care and pampering and despite several hard years for olive oil producers in Provence, Claire said that her yields have been exceptional.
As we walked along the groves Claire's house was always in view. She explains that each variety ripens at a slightly different time so that during harvest time, they can focus on one varietal at a time. Once harvested, the olives are carried the very short distance to her home so that they can be pressed immediately. Her oils are some of the freshest pressed oils we've ever had and it truly shows in the quality.
As we walked back towards the house, Claire spoke about the importance of organic farming while motioning to the wildflowers surrounding the base of the trees. Being so small, it is too expensive to be certified right now, but the farm is practicing organic - a designation important to very small farmers who practice organic farming but are too small to afford the expensive certification. Back at the house we sampled through each varietal of olive oil and discovered a few new treats that she makes (stay tuned)! We left feeling grateful for this new friendship and a deeper appreciation for the art of truly small-scale olive oil production.
Château de Roquefort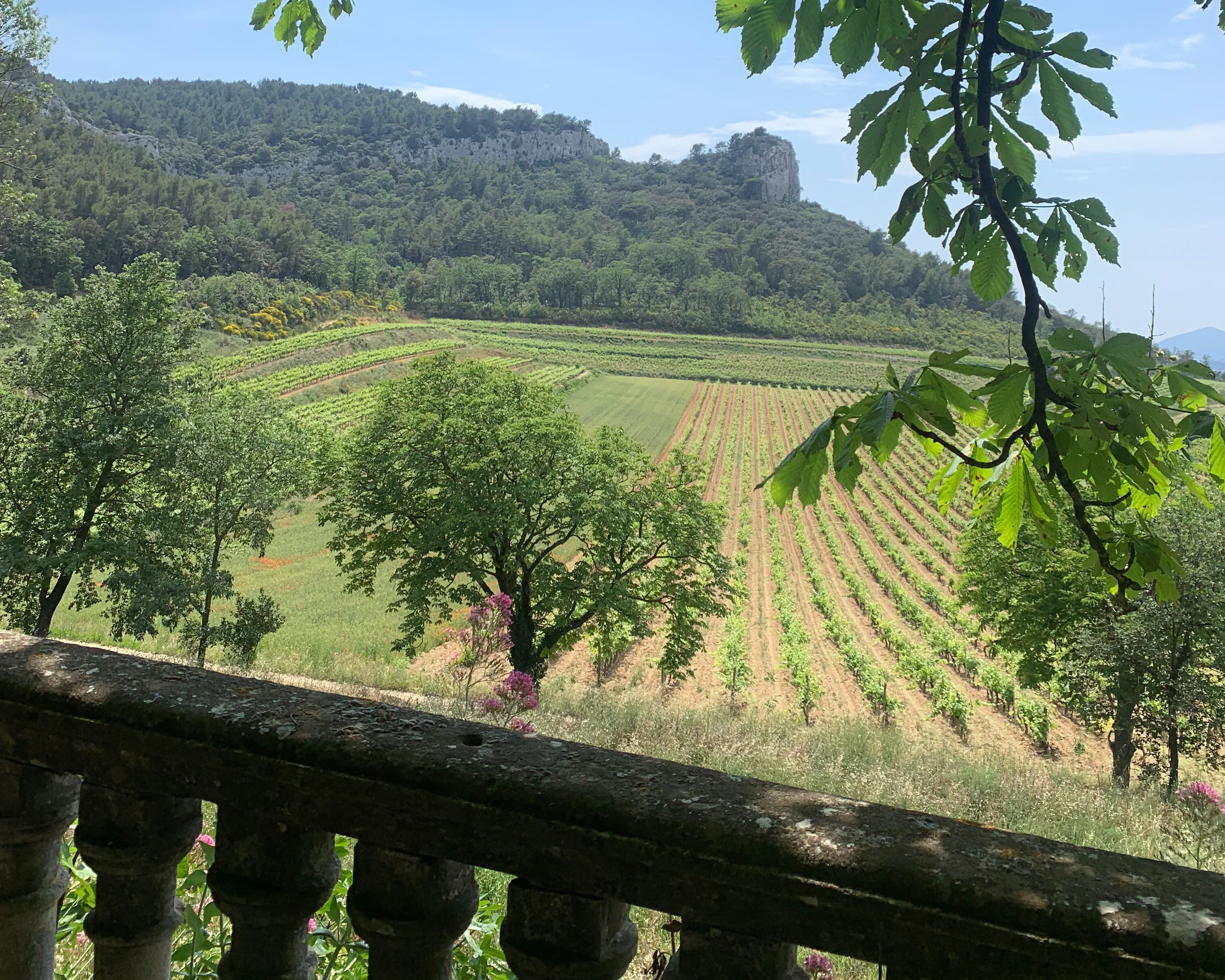 I was excited to meet and visit the small Provencal winemaker Margot of Château de Roquefort, as I have been a fan of their rosé for years. Château de Roquefort is a certified organic and biodynamic winemaker located in Roquefort-la-Bédoule. Despite being so close to the coast, their vineyards are carved into high plateaus facing North-Northwest, thus enhancing a microclimate which brings much freshness to the wines. With an intense respect of nature and the rugged environment that surrounds their small vineyards, they strive to allow nature to speak for itself from using native yeast to hand-grafting their vines.
While there, I was expecting to be delighted by their rosé (as I have been in the past) but instead I discovered my new go-to summer wine: Petit Salé. Petit Salé is a white wine made from Clairette, (locally called "le salé"), Vermentino, and a touch of Ugni Blanc. I would describe it as floral, and minerally with notes of white peach and a silky texture. What struck me the most was just how perfect it was to pair with cheese.
As we wrapped up the day in the cool cellar, sipping wine, chatting, and snacking on cheese, I was grateful for how much I'd learned during my time with each producer. There is no end to the expertise that exists in the world of specialty food and wine and I have the privilege of having an incredible amount of access to it. This trip really reinforced the importance of travel not only in general but to the foundation of Formaggio Kitchen's philosophy. It is important for us to learn the "why" behind our products and witness the hard work that goes into the quality. Equally important, we must build and maintain the relationships with our producers as we act as caretakers for their craft. Lastly, traveling gives context to these products, highlighting the culture, lifestyle, and people, something that is very important to us.